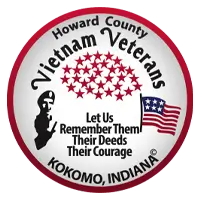 The HCVVO logo features 31 stars representing the 31 Vietnam veterans from Kokomo, Greentown, Russiaville, and Howard County, Indiana, who paid the ultimate price to defend the United States Constitution.
The Howard County Vietnam Veterans Organization: Our Story
The Howard County Vietnam Veterans Organization (HCVVO) was established in 1981 to help raise funds for building the Vietnam Veterans Memorial on the downtown Kokomo courthouse square. In 1982, the founding members hosted a hog roast to drive awareness and garner capital for local vets and their families, inspiring an annual veteran's reunion in Howard County. Members purchased the HCVVO facility in 1990, transforming it to provide resources, relaxation, camaraderie, and respite.
39 Years: The Oldest Annual Vietnam Veterans Reunion
After completing the downtown Vietnam Veterans Memorial installment and hosting the first annual Vietnam Veterans Reunion in Howard County, HCVVO officers ensured a yearly commitment to honoring US service members. For 39 years, our organization has welcomed veterans nationwide for annual gatherings, making ours the country's oldest and largest Vietnam Veterans Reunion.
The Howard County Vietnam Veterans Organization owns 37 acres of Midwestern American landscape eight miles east of Kokomo city limits on State Road 26, lovingly nicknamed The Healing Fields. We remain open 12 months a year and have 2,500 members, including Vietnam and Sandbox veterans. Join our week-long annual veteran's reunion on the third week of September every year.
Please refer to the HCVVO Reunion and Event page for more information.
Available all year for veterans and their families.
Feel free to stop by or Leave a Message.
8313 E. 400 S.
Greentown, IN 46936